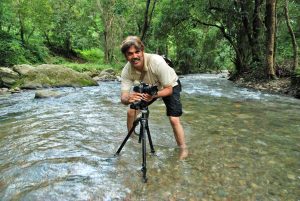 Bhumesh Bharti
Am a self taught photographer, doing my photography from class ninth when I won a prize (Camera) in a painting competition. Later on while working as a journalist with few local news papers i do my photography for my own articles. That slowly changed my mind I turn to a full time photographer leaving my writing for the news papers. This change came to me because what i have to write in many words is equal to a photograph just with a title or a small caption. After my graduation I got a chance to work with National Literacy Mission with Bharat Gyan Vigyan Samithi at Delhi head office. During this job i have an opportunity to travel to the villages and different part. I created my interest in Social life photography.
I observe the photographs are clicked a very simple showing a women or an adult is reading or writing. And these very simple arranged type of photographs of literacy are published in the national level magazines, newspapers and other publication. Then i decide to do something new for the Literacy mission and i purchased a SLR camera and started my job
To encourage the photography amongst the new age and students I have started a group called Colored Leaf Photography Group 2 and half  years back…. Now we are about 300 people who are photography enthusiast but from different fields. We had done our 3rd Photo exhibition of the group.  Regularly taking workshops and photography tours for new comers and other photographers.
About 11 years I worked with  GMVN as a computer technician, also get few chances to capture Garhwal and its beauty.  But found myself in the files only and going far from photography – I left my job 4 years back with many good experiences with this Government office.
The Times of Doon is publishing my work since its first issue when its name is Doon Plus. Many of Doonites know me through this news paper.
Work Profile:
~ Freelance Photographer for more about 18 years.
~ Freelance Short film making for about three years. Including on Industrial and non govt orgaisation.
~ Experience of working with Garhwal Mandal Vikas Nigam Ltd. (A unit of Uttarakhand Tourism) for about 11 years as Computer Technician.
~ Photography done for Coffee Table books for National Literacy Mission,  Uttarakhand Tourism. Forest Department, Uttarakhand, National Litereacy Mission, Govt of India. Indian Military Academy , Dehradun and Bhagirathi nadi Gahti Vikas Pradhikaran etc.
~ Photography done for calendars of Directorate of Information and Public Realation, Uttarakhand Tourism, Uttarakhand Police. Indian Air Force, Central Social Welfare Board – Govt of India, Ministry of Social Welfare Govt of India, Ministry of Human Resource, Govt of India.
~ Worked for Regional News papers based at Dehradun as Reporter and Photographer (1990-1994)
~ As a staff photographer for the magazine Saksharta Mission and Literacy Mission produces by National Literacy Mission, M/o HRD, Govt of India. (1996-1998)
~ Free lance photographer for the magazine "Samaj Kalyan" and "Social Welfare" produced by Central Social Welfare Board.
~ Freelance photographer for magazines and publications of Outlook.
~ Freelance photographer for magazine Career 360.
Films:
Asst. Producer for an award winner wildlife film "Chasing Butterflies" (27 minutes) the film is made on based of the his photo documentation on butterflies of Doon Valley. Directed and filmed by Gurmeet Sapal
Asst. producer for at film "Beauty of Dragons". The film is a lifecycle of dragon flies.
Camera done for Ashwagandha Production, Mumbai for their big screen film "Dehraadun Diary".
Exhibitions
Organised group show by Colored Leaf Photography group on the occasion of World photography day (August 19th of  2011 – 2012 – 2013)
Photo exhibition Mountain Echos at The Arpana Art Gallery , New Delhi –  2012
Photo Exhibition (Solo) Beauty of Nature at Hotel Indralok – 2011
Photo exhibition (Solo) "Moods of FRI Campus" at UGB – 2010
Photo exhibition (Solo) "Moods of FRI Campus" at FRI, Dehradun – 2010
Photo exhibition "Our land and its People" at Welham Boys School.
Photo exhibition on Dragonflies at the National Wildlife and Environment Film Festival organized by CMS at New Delhi in 2003.
Held an photo exhibition on The Himalayas on the occasion of World Tourism Day in 2001
Held an photo exhibition on Himalayas Calling  on the occasion of World Tourism Day in 2003 at The Ashoka hotel, new delhi
Photo Exhibition on birds of Dehradun at Assan on the occasion of Asian Water Birds Census Week.
Photo exhibition on Birds & Butterflies at Dehradun on the occasion of W.E.D. (June 5th 2000)
Held photo exhibition at Haridwar on the occasion of Literacy day. Titled Literacy and after.
Held exhibition on Indian Working Women at Delhi. 1998
Award
Forest Department, Uttrakhand  –  For excellence contribution in the field of Nature Photography  in 2013  By the CM of Uttarakhand.